By Jennifer Atanasoff
If you haven't heard by now, Pepsi recently came out with an ad on Tuesday featuring model and Kardashian sister, Kendall Jenner. This ad sparked controversy across social media, specifically Twitter, of course.
The commercial showed a lot of people protesting and gathering together while Jenner was having a photoshoot, wearing a blonde wig, off to the side but she was seeing everything that was happening in the streets. A man gave her a look, seemingly to join him in the protest, and she pulled off her blonde wig and wiped off her lipstick and joined the protest. She then grabbed a Pepsi from a nearby cooler and handed it to a police officer that was standing guard for the protest, the officer smiled in return. Then, the crowed started cheering, laughing, and dancing with each other.
After many people saw this ad, they took to Twitter to discuss their feelings about the ad. Many people felt that this ad with Pepsi mirrored the protests involving Black Lives Matter movement. Many people felt that this ad was tasteless and attempted to capitalize on police brutality.
Brad Jakeman, current president of Global Beverage Group at PepsiCo tweeted about the partnership and ad featuring Jenner:
Jenner has not commented on the controversy the ad sparked. She was apparently on a flight to Paris while social media users were discussing the ad. After she landed, she deleted all of her tweets relating to the advertisement. Her mother, Kris Jenner, has even deleted her tweets relating to the controversial ad.
Since the ad has become controversial and was most certainly in poor taste, PepsiCo has released a statement with an apology.
"Pepsi was trying to project a global message of unity, peace and understanding. Clearly we missed the mark, and we apologize. We did not intend to make light of any serious issue. We are removing the content and halting any further roll out. We also apologize for putting Kendall Jenner in this position," Pepsi announced on Wednesday (April 5, 2017).
They have even posted a statement via Twitter. They have it pinned so anyone that views their account will be able to see that first.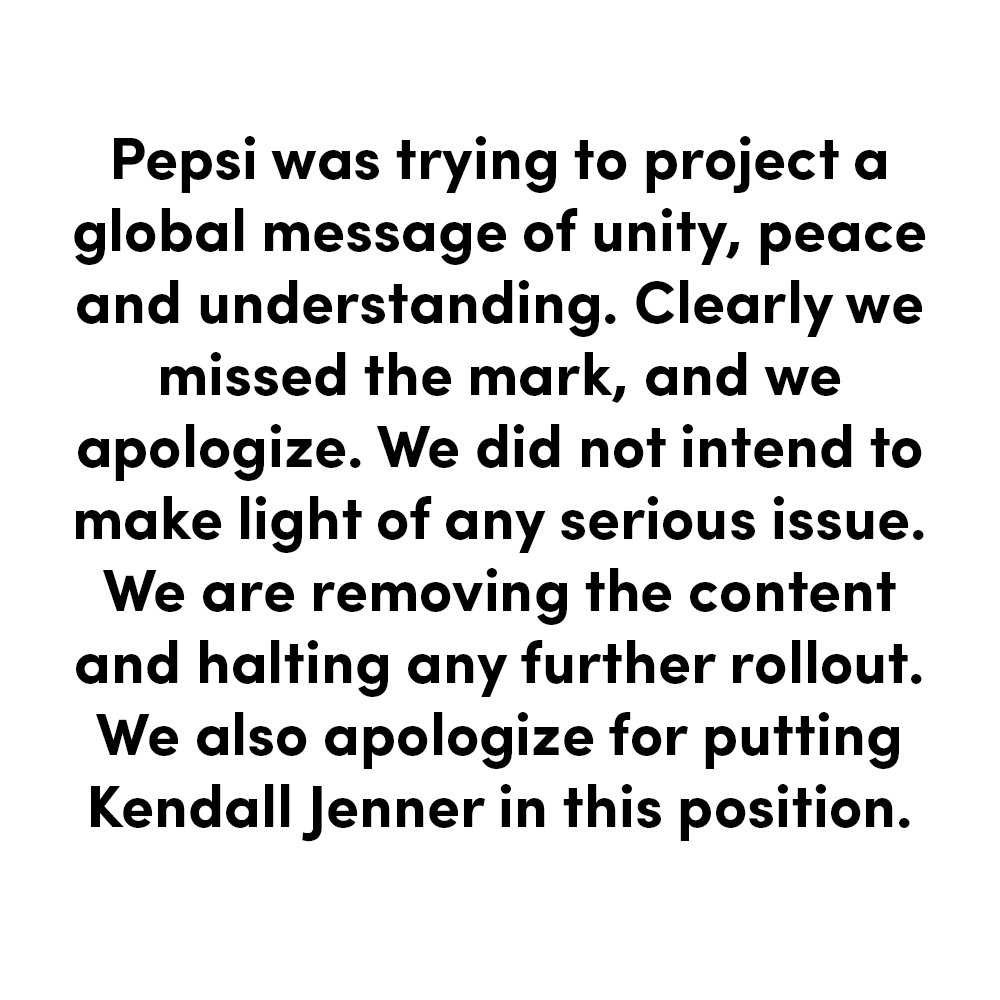 Sources: